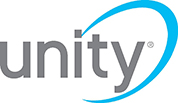 New! Unity Mobile Progressive Lenses – Enhanced for mobile use.
Mobile devices are changing the way we gather information; whether it's reading, web browsing, using gps navigation, watching movies or viewing pictures, these have all become near vision tasks. Typically held closer to the eye than traditional reading material like books and newspapers, mobile devices have smaller fonts and image details, and added screen glare, making it more difficult for users to find their comfortable near viewing area.

Unity PLxtra Mobile and PLx Mobile Progressive Lenses have been optimized for this shorter near viewing distance that mobile users need. Unity Mobile Progressives provide increased magnification in the near vision area, increased visual acuity and reduced eye fatigue for overall improved visual comfort without compromise to the rest of the prescription.
Unity® Progressive Lenses are your simple, easy-to-dispense solution delivering high-end quality and technology at a competitive price. Now you have even more choices to meet your patients' needs with Unity Progressive Lenses.
Unity PLxpression with Cascade™ Technology
The Unity PLxpression lens design incorporates the patented and proprietary Cascade™ Technology, which employs variable base curve technology to deliver the next level of lens customization. This breakthrough technology unifies a unique, variable base curve front surface with a backside freeform design and the patient's position-of-wear measurements.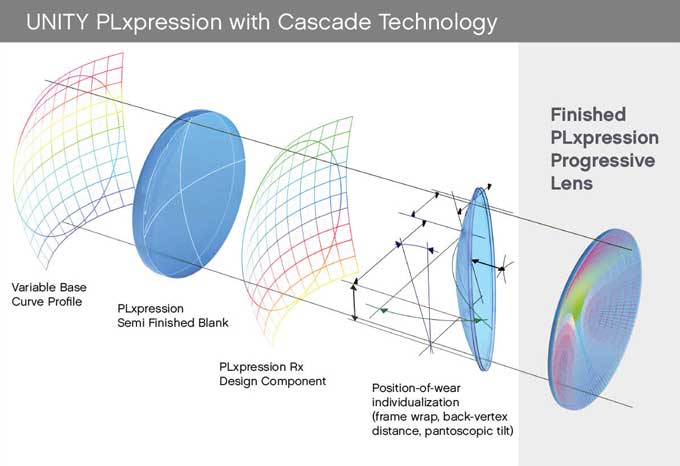 Unity PLx
All Unity Progressive Lenses, including the original simple lens solution, Unity PLx, use sophisticated calculations and ray-tracing technology to create unique, personalized lenses. Their exceptional design, 100% backside freeform lens process, and quality assurance delivers a maximum-utility lens for assured patient adaptation and visual satisfaction. Now available with enhanced near vision for mobile users.
Unity PLxtra
Unity PLxtra offers position-of-wear precision, delivering a compensated Rx to give your patients even greater customization and clarity by compensating for frame wrap, pantoscopic tilt and back-vertex distance. These lenses also have a wider range of fitting heights to better match today's varied frame sizes. Unity PLxtra provides patients with state-of-the-art lens design features, more flexibility, and greater personalization, allowing them to see better in their everyday activities. Now available with enhanced near vision for mobile users.
Unity PLxtreme
Unity PLxtreme is the ideal lens choice for patients wanting Unity performance without limiting their choices for wrap frames. Unity PLxtreme decreases peripheral distortion and increases clarity in line-of sight. Like PLxtra, PLxtreme incorporates position-of-wear measurements for added customization. It's a simple solution for all of your patients' daily activities.

Unity Progressive Lenses
All Unity Progressive Lenses incorporate:
smooth visual transition between viewing zones,
increased visual performance,
enhanced distance vision,
customizable reading zone with fixed-corridor lengths.
Unity Progressive Lenses are available in a variety of fitting heights to accommodate a wider selection of frames, enabling eyecare professionals to align lens performance with each patient's visual needs and frame selection. For example, for a 15 mm segment height, PLx13 provides a 7 mm reading zone, while PLx15 provides a 5 mm reading zone. You decide the best design for your patient's unique needs.
Unity PLx and PLx Mobile are available in four fixed fitting heights: 13 mm, 15 mm, 17 mm, and 19 mm.
Unity PLxtra and PLxtra Mobile are available in five fixed fitting heights: 12 mm, 14 mm, 16 mm, 18 mm, and 20 mm.
Unity PLxtreme is available in two fixed fitting heights: 15 mm and 18 mm.
Unity PLxpression is available in five fixed fitting heights: 12 mm, 14 mm, 16 mm, 18 mm, and 20 mm.
The Unity Precision Difference
Freeform technology uses state-of-the-art lens processing equipment and advanced digital lens designs to deliver the most precisely crafted prescription possible. Customized Unity lenses can be created to address your patients' specific visual requirements, within 1/100 of a diopter. The ease of adaptation and high satisfaction your patients experience is a result of a quality verification process with every Unity lens produced. To ensure the lens design is exactly what the doctor and lab intended, each lens is digitally mapped. This extra step ensures precision and accuracy with every Unity lens.
Contact your Unity brand representative to learn more.
Unity Progressive Lens Sell Sheet
Unity Progressive Lens Centering Chart
Unity Progressive Lens Technical Paper
Unity Lens Frame Wrap Tool
Video: How to take Unity position-of-wear measurements