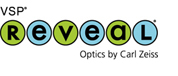 Notice: Effective Sep. 30, 2014 the VSP® Reveal Optics by Carl Zeiss line of lenses
will be discontinued. For details, please contact your Sales Representative.
VSP Reveal Lenses empower you to take personalized patient care to the next level by integrating each wearer's prescription, personal frame choice, wearing position, and lens fitting geometry to create a VSP lens than enhances their personal vision every time.
$10 + $10 = $20!
Receive $20 for every pair of VSP Reveal Progressive Lenses ordered through eClaim
or eLab. Visit VSPOnline at eyefinity.com and select Reveal for more information.
Learn more about the VSP Reveal products!